Toulouse-Lautrec's poster of naughty lady-loving Irishwoman Miss May Belfort, originally Mary Egan from Mayo, Ireland: vaudeville singer, child impersonator and, for a brief fleeting moment in May 1895 (there are a lot of 'mays' in this post), the star of Parisian cafe society.
May's "slightly disturbing and thinly-veiled erotic" act was performed wearing the dress of a little girl with large puffed sleeves and an enormous bonnet (see above).  Often she clutched a black cat, in reference to her most famous song, 'Daddy wouldn't buy me a bow-wow', her well known sapphic inclinations adding a particular piquancy to its opening lines:-
" I love my little cat, I do
With soft black silky hair
It comes with me each day to school
And sits upon the chair."
May and Toulouse-Lautrec met at the Irish-American Bar, Paris, where May had been brought by her lover the dancer May Milton, who had in her turn been previously  introduced to Parisian cafe society by her love Jane Avril.
Toulouse-Lautrec drew posters for all of them, but the two Mays soon disappeared from the Parisian stage and only Jane is really remembered today; check out her poster as shown in this 1940s fashion shot with the lovely Lisa Fonssagrives, below; later in life Lisa herself was to attain iconic status as 101 Dalmatians' Cruella de Vil…
The question all men ask when they see work by Toulouse-Lautrec: were his women really as, ahem, unusual-looking as he drew them?  Check out the photos below of May B,  May M and Jane (in that order) and decide yourself…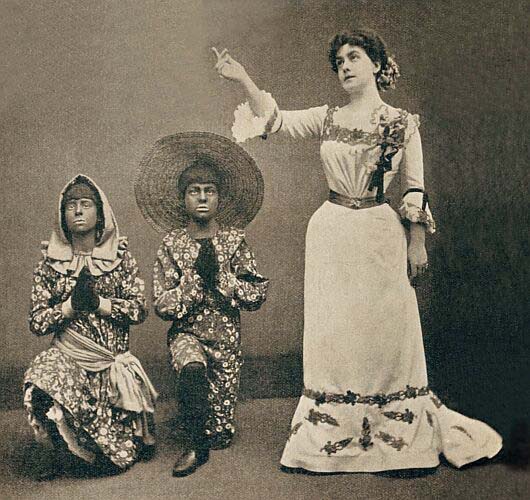 What happened to May Belfort in the end?  Well, it looks like she stayed in vaudeville after retiring from the Parisian stage due to 'ill-health', thankfully not singing the same song though; from this account it appears that she was still round in England in 1906 getting into trouble for using other people's material without paying royalties.  From the title of the song in question ("The Rake's Progress") it appears that her tastes may have changed since her Irish-American Bar days, or perhaps she was simply adapting her material to suit a less sophisticated audience.
It appears May may have died in 1929 or so, but the precise circumstances leading up to her death are not generally known.  What is clear, however, is that she did not, ever, ever, return to Mayo.   And who could blame her for that?